How does LED Skin Rejuvenation work?

LEDs offer a totally natural, non-ablative method for skin rejuvenation. The light from the LEDs interacts with cells and stimulates them to produce new
collagen and elastin. Studies confirm that the same LED energy can be used to inhibit collagen formation, which can be helpful in the treatment of scars.
By manipulating the wavelengths, cells can be turned on and off. Yellow light LEDs are used for photo-rejuvenation. Blue light LEDs are used in the treatment of acne. Red light LEDs are used for PhotoDynamic therapy.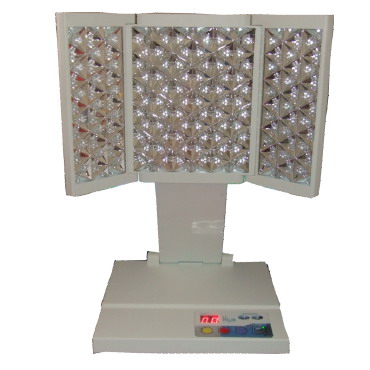 Application:
☆ Stimulates collagen production which smoothes fine lines and wrinkles.
☆ Reduces hyper pigmentation and age spot.
☆ Reduces pore size.
☆ Reduces acne scars.
☆ Improve minor stretch marks.
☆ Increase skin elasticity and improve circulation.
☆ Reduces the overall redness, flushing and improves the recovery from these common chronic facial disorders.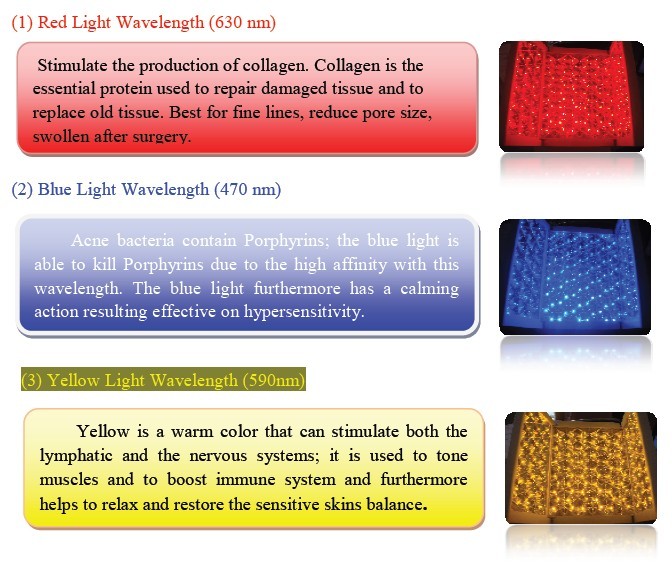 Specification:
☆ Model: Beauty Light LED System
☆ Wavelength: red-630nm; blue-470nm; yellow-590nm
☆ Power: 25W
☆ Weight: 1.4kg
☆ Size: 32 x 21 x 75cm
☆Voltage: 110V / 220V
Fourth, LED Therapy Advantages:
☆ No pain, no side effects, or downtime .
☆ Remarkably safe and effective for all skin types .
☆ Non-thermal, non-invasive, and non-ablative .
☆ Fast and convenient .
☆ Treats large areas such as the entire face or chest at once .
☆ No aftercare is needed .
☆ Compatible with other skin rejuvenation techniques .
☆ Comprehensive anti-aging skin care .