ultrasonic cavitation slimming beauty system
Cavitation Vacuum Slim Cellulite Treatments
Model:FM-10RC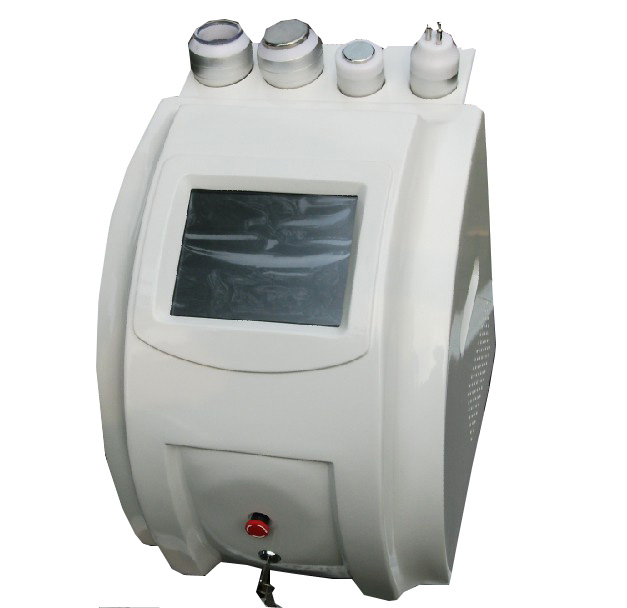 Brief introduction;
Cavitation and RF beauty equipment is the newest equipment which uses the most advanced technology. It highly combines the advantage of Ultrasonic
Cavitation and RF. The Ultracavitation uses ultrasound cavitation effect to cause the air bubbles around lipocyte membranes to break up. The broken
lipocytes will then be absorbed and metabolized out of human body by lymphatic system. It has a perfect treatment result for weight loss.And about
RF Systems: In addition we use 6 MHz radio frequency to alternate the electric field in the skin from positive to negative. It will produce head under
dermis then the initial collagen denaturation. Subsequent collagen regeneration then further tightens the dermal tissue and make the skin tightening, smooth and fresh
This unique system which employs a 3rd generationRF technology is based entirely on a differentmethod than previous generation RF systems,heating
simultaneously superficial and deep skinlayers by delivering very focused RF current into the skin.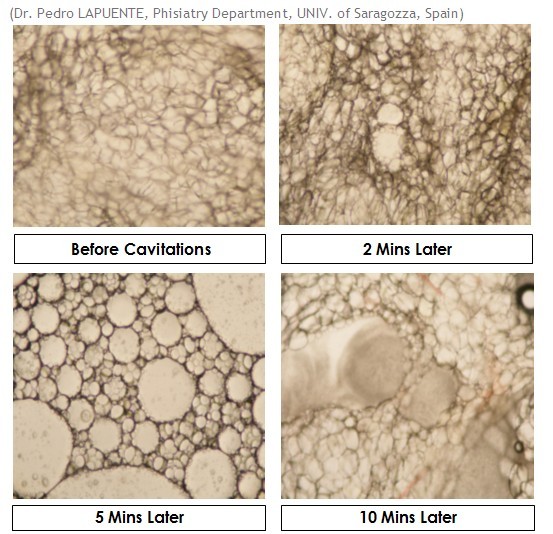 Application scope:
(1)Soften hard fat tissue, break up lipocyte
(2)Remove wrinkles, strengthen and tighten skin
(3)Skin rejuvenation and sagging removal
(4)Body shaping and body slimming
(5)deep tissue tightening on sagging facial and abdominal skin continues to interest cosmetic surgeons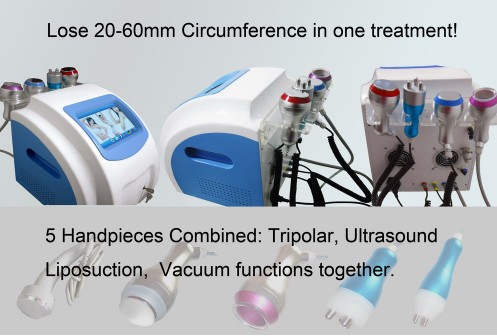 Characters:
1. Unique design enjoys national patent, five treatment probes
2. Adopt the leading-edge technology ultrasonic lipolysis and Radio Frequency in the world today
3. Suitable to all kinds of skin and people
4. Comfortable, no pain, no scar in treatment and perfect effects
5. Easy to operate and maintain
6. Quick treatment, not affect people normal life
Our Unique Advantage
(1)RF plus high energy ultrasound cavitation cutting-edge technology, comfortable treatment youth reverse naturally.
(2)featured upgrading
(3)Weight loss plus body shaping come true together.
(4) User friendly ,touch screen
(5)Adjustable parameter
(6)treatment ofcellulite, body contouring and localized fat reduction with immediate visible results on all skin types without pain.
Technology parameter:
Controller: 8.4 inch color touch LCD display
Power: 1-100W/cm2
Handpiece: 5 pieces (1 handpiece for ultrasonic treatment, 1 handpiece for fat
burning treatment,1x RF handpiece 1Mhz Monopolar and 2x RF handpiece with
6Mhz tripolar for face and body)
RF output power:200W
Ultrasonic frequency: 40 KHz
Ultra frequency: 6MHz
Connector: import from France
Machine panel: advanced ABS material
Voltage: 220V AC / 110V AC
Dimension: 59*46*54mm
Weight: 20kg