How does LED Skin Rejuvenation work?

LEDs offer a totally natural, non-ablative method for skin rejuvenation. The light from the LEDs interacts with cells and stimulates them to produce new
collagen and elastin. Studies confirm that the same LED energy can be used to inhibit collagen formation, which can be helpful in the treatment of scars.
By manipulating the wavelengths, cells can be turned on and off. Yellow light LEDs are used for photo-rejuvenation. Blue light LEDs are used in the treatment of acne. Red light LEDs are used for PhotoDynamic therapy.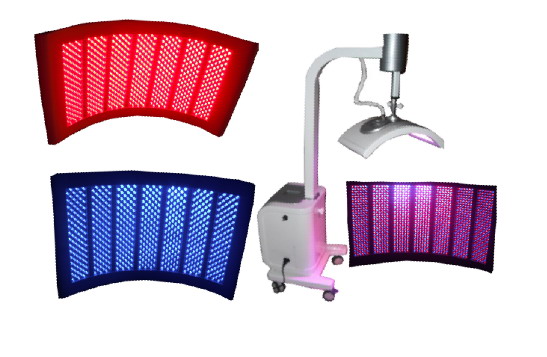 Treatment Applications:
Removal: Whelk, Macula, Folliculitis.
Have great improvement on Coarse Pore, Flabby Skin, thin Wrinkle, Gray complexion etc.
Improve facial nerve anesthesia, Relieve pressure, and improve sleeping quality.
Dispel: Fleck, Sunburn, Age Pigment etc.
Rehab: Any burn, Blain or Pigmentation caused by high energy from IPL and laser treatment.
Modulation: Maladjusted incretion, Ovary Maintained, breast lifting.
LED is a green medical care rejuvenation device. So you can set you mind to use. Our L1260 uses high intensity, narrow wavelength bands of blue light at 405-420nm, red light at 600-620nm, and infrared light at 850-890nm. The combination of blue and near infrared light is utilized for fast, effective and safe treatment of inflammatory acne. The combination of all three wave length bands :blue ,red and near infrared, is utilized for photodynamic therapy(LED)treatments, enhancement of wound healing and prevention of hair loss. With a maximum energy density of 330J/cm2 the L960 beam covers an entire face or other large body area, affecting molecular and cellular levels without any thermal effect associated with lasers and intense pulsed light systems.
Product feature :
1. Non-touch treatment, safe and reliable
2. LED doesn't heat up or burn skin.
3. Large spot size and short treatment time
4. No side-effects.
5. Fit for any kind of skin.
6. Low cost on cure, longevity and simple maintenance.
7. A simple operation without complicated and professional training.
8. No special nurse and normal dressing for skin after treatment.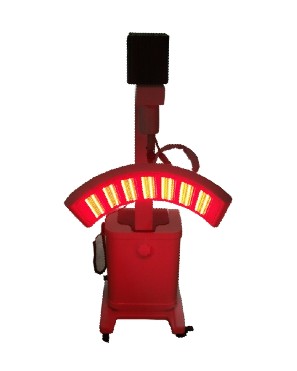 Technical Parameters:
Output Wave: Red 640nm±5nm ; Blue 470nm±5nm
Lightness:≥8000mcd (red light);≥4000mcd (blue light)
Light spot size: 350*240(mm2)
Voltage: 220V 50Hz or 110V 60Hz
Input Power: 120W
Output Power: 80W Number of LED
lamps: 1260
Customer IC Card: optional
System Size: 515*515*130(mm3)