Dermabrasion
This Crystal + Diamond 2 in 1 Dermabrasion unit provides a non-surgical skin refinish procedure by using sterile micro-crystals to abrade or rub off the top skin layer, then vacuuming out the
particles along with any dirt and dead skin. This procedure removes skin debris, imperfections, blemishes, wrinkles and unwanted pigmentation on the skin. The unit has a special feature, which is the ability to vacuum back the remaining crystals on the skin. Moderate usage of Micro
Dermabrasion, accompany with skin products that penetrate through top skin layer and reach the dermis level, helps to replenish natural nutrients, restore cell activity, and promote skin health. The results after Micro Dermabrasion treatment is usually a healthy, glowing, beautiful skin.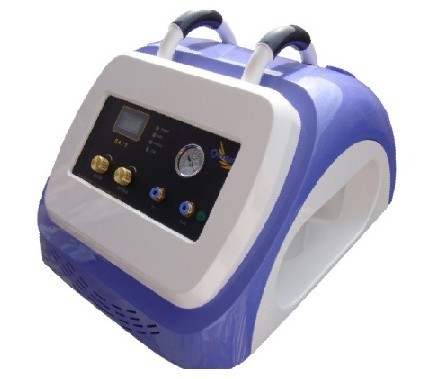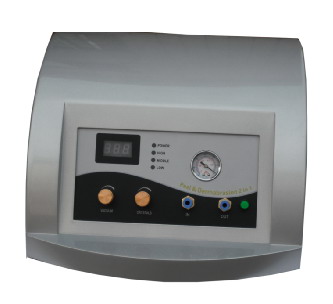 Treatment Range
Different from many other chemical exfoliations, it is a dry exfoliation method that is safe to use on many parts of the body including the face area.Exfoliating can also be understood as the removal of dead skin
cells. Buy using the special crystals we provide, it can help smoothing out wrinkles and fine lines. It is also very beneficial for scars left from wounds or chicken pox. It also helps to unclog pores, stimulate the circulation of the skin, eliminate dead skin cells from the top layer of the skin and improves the skin's ability to retain moisture. Giving the skin a more youthful and healthy appearance. However, due to the nature of its treatment, it is very important that this system is operated by qualified personnel only. Any violations of the above will void the warranty and the operators should be responsible for any damages to the systems and/or client.
It mechanically alters the epidermis and invigorates cell renewal to create a healthy, balances skin surface.
It is then possible to improve or eliminate many skin conditions and skin imperfections.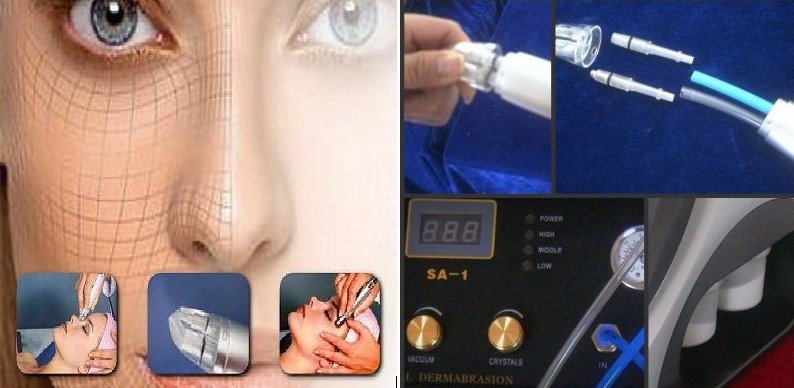 Features
1. Two functions: Crystal Dermabrasion and Diamond Peeling.
2. Germany Vacuum Pump System with double motors.
3. Machine uses 100 or 120 Grid Crystal.
4. Dual filtering process to prevent clogging.
Advantages
1.Portable suitcase design easy for carry.
2.Innovative in laser technology, strict in technical detection, precise in manufacture, stable and effective
in performance.
3.Special designed cooling system ensures constantly working;
4.Micro computer system counts the shots;
5.No injury to normal tissue;
6. Remove pigmentation without side effects or scar;
Technical Specification
1. Flow of air for treatment handles : 0.05L/S ~ 0.16L/S
2. Pressure of the pass way: -90-0kpa
3. Lowest Level (L) , Highest Level (H) by the pressure of the pass way
Adj.Crystal

Lowest Level (L)

Highest Level(H)

Adj. Minus Pressure

000

500±10

990±10

000

500±10

990±10

Pressure of pass way / kpa

P〉-35

-75〈P〈-65

-80〈P〈-70

-35〈P〈0

-60〈P〈-45

-70〈P〈-60
4. Noise《=70dB(A)
5. Power:220V±22V 50HZ±1HZ
6. Input Voltage:250VA±15%
7. Fuse:BX-2/2A
8. Pump:140VA
9. Weight:20kg±1kg.
10. Dimension.: 440*380*240mm
11. It is unsuitable to be flammable, use in the explosive environment
12. Require electrically: Belong to the I B ordinary equipment according to shocking by electricity and protecting
classifying.