Application :
1. Permanent hair removal by E-light technology
2, All kinds of spots removal, freckle removal, pigment removal
3. Skin lifting, skin tightening, skin rejuvenation, skin whitening, wrinkle removal, reshape facial outlines, contract large pores, rebuild body figure
4. Acne treatment, Angiotelectas treatment
5. All colors of Tattoo removal, eyebrow line, lip line pigments removal
6. Weight loss, breast enlarging.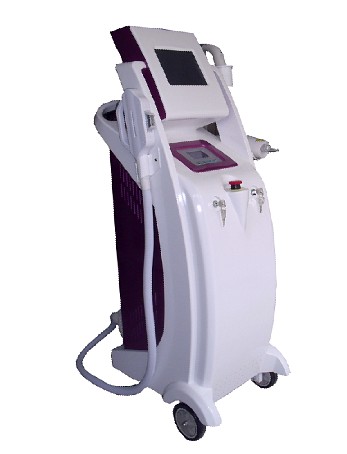 Product unique advantages:
1. A good combination of five advanced technologies: IPL+E-lightl+ Bi-polar RF pigment removal+ Laser tattoo removal +Soft Skin
Black Moppet, it is the KING of all the beauty machines, which could solve nearly all the skin problems.
2. Double operation screen: 8.4 inch TFT True colorful touch screen+5.1'' LCD screen, which could work together, easy to operate.
3. Fashionable shape, very popular to customers, easy to get the invest back.
4. CPC connector of instant plug and play, very easy to install and operate.
5 Suzuki capacitor from japan, more powerful and stable for power supply
6 stainless steel for water tank, more stable for cooling systems.

Specification:
Wavelength: 430nm/480nm/530nm/580nm/590nm/640nm/690nm(optional)
Operating Interface: E-light: 8.4 inch Touch Screen/Laser: 5.1" button Screen
Frequency : E-light part: 1Hz/2Hz/3Hz RF part: 5-10MHz Laser part: 1-5Hz
Energy: E-light part: 0-50J/cm2(IPL), 0-50J/cm2(RF) RF part: 0-50J/CM2 Laser part: 1300-1600 MJ
Laser Energy level 1-100level
Output Power: E-light: 800W RF: 600W Laser: 350W
Laser Treatment Head: 1064nm, 532nm, 1320nm Specialized Black Moppet Head(Optional)
Cooling Systems: Semi conductor +Wind Cooling +Water Cooling
Input Power: AC 220V(110V)/15A 50Hz(50Hz)